How It Works
We've designed mysilo.info to be as simple as it is effective for our customers who prefer the convenience of a subscription service rather than capital equipment purchase.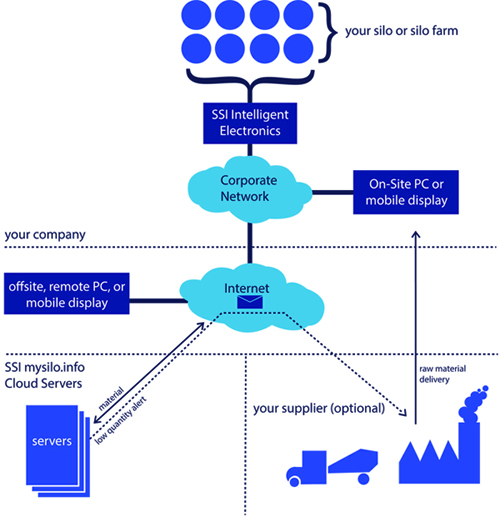 There are
three steps
:
Step 1. The customer creates a mysilo.info account with Strain Systems. There is no limit to the number or location of silos that can be monitored by the system. The customer pays an initiation fee and signs a contract with Strain Systems for silo inventory monitoring at a monthly rate per silo. Additional plant systems or equipment, even equipment not on the silo, can also be monitored via mysilo.info.
Step 2. Strain Systems installs and calibrates the monitoring system, retaining ownership and all responsibility for support, maintenance, and any technical issues that may arise. We configure the system to send periodic data to our cloud servers (available 24/7 globally) based on the rate of inventory change the customer selects to ensure that the most accurate information is available at any time. The monitoring system is under perpetual warranty.
Step 3. The customer visits the mysilo.info website and logs in to his account for instantaneous access to inventory data virtually real time. Inventory details for all customer silos in the system are viewable on one screen. mysilo.info is accessible from any computer or mobile device connected to the Internet. In addition to the three basic steps, we've added these bells and whistles:
Access rights to other individuals can be granted to perform certain operational tasks.
Additional accounts may be created with varying access rights to the silo inventory monitoring system. For example, one of your users may have account privileges to see all the silos in your organization's global locations and access the total inventory information. Another user might be limited to access to only a single silo or to the silos at a specific plant.
An optional service is available to send low material quantity alerts to your vendors via email or text message for just-in-time inventory management. This guarantees that adequate raw materials will be on hand at all times to prevent production disruptions. Via your account control panel, you can grant access rights to your vendors to perform certain monitoring tasks for you.
Custom reports can be requested from the mysilo.info service to facilitate inventory management and control.
Input from additional factory systems may be displayed via the remote monitoring service.
Strain Systems is also open to implementing custom features to support your business operation.
The mysilo.info platform is a cutting-edge, industrial-grade, signal/data collection and reporting platform, and we're already looking toward introducing further services: detailed reports, analytics, and prediction of when material deliveries will be needed. While the system is currently offered with Strain Systems' hardware and software solutions, the existing platform is capable of reading data from any other sensor or machinery at your plant. Strain Systems can selectively offer the mysilo.info service to your other data collection, monitoring, and reporting needs in addition to any weight and level measurement solution you may have on your silo.
Contact your local representative or our support engineers to tell us more about your weight and level measurement needs and any data plant-monitoring challenges.
Subscribe now to mysilo.info so you can forget about the infrastructural details of monitoring and get back to what matters to you: your silo inventory management.